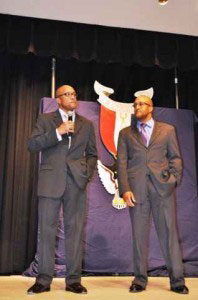 WELCOME TO THE MOSS EAGLE's NEST. Only 4% of Boy Scouts have ever been awarded the Eagle Scout Award, the highest attainable rank in the Boy Scouting Program. The title of Eagle Scout is held for life, thus giving rise to the phrase "Once an Eagle, always an Eagle".
The Moss Brothers earned the Eagle Scout Award when they were 15 years old. They credit this early experience with leadership, challenge and discipline for their success today. They have had the honor in participating in the court of honor of many Eagle Scouts from all over the United States, realizing that it is these young men and proven leaders who will set the example for the future. As they travel the country to congratulate these fine men, they take particular interest in participating in a unique selection process for induction into a special program.
There are a few Eagle Scouts that have set themselves apart from other Eagle Scouts. These selected few have certain qualities that mirror the Moss Brothers and it is these characteristics that cause them to be disproportionately represented in the military, service academies, major professions, business, health and politics. The Moss Brothers refer to them as members of the MOSS EAGLE's NEST.
To apply or inquirer about the Moss Eagle's Nest, send an email to info@vinceandvancemoss.com